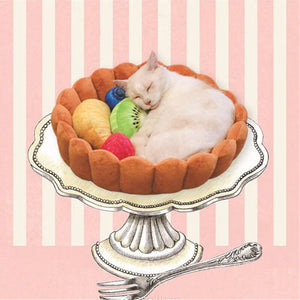 🚨SHIPPING NOTICE🚨: Orders placed today may NOT arrive by Christmas. Please note🙏
The sweetest bed ever!
This playful novelty pet bed is ideal for the you with a sense of whimsy and imagination. Your furry friend can curl up in the pastry "shell" amidst the delightful assortment of stuffed fruit cushions, including a colorful kiwi, strawberry, two blueberries, and a tasty tangerine! The fruit cushions can be rubbed in catnip and double as kicker toys!
Specifications
Item Name: Fruit Tart Bed
Size: M (diameter=40cm); L (diameter=47cm) 
Item Type: Coats & Jackets
Material: Polyester, Velvet